Located in the historic downtown of Herndon, we are within walking distance to restaurants, shops, and services near the Old Town Hall.
Monroe Street Art Studio is a unique, professional, and educational Art Studio based in Herndon, Virginia. Founder and Owner Yana Farmer is a professionally trained art teacher who created this art studio to share her passion for art with others. Monroe Street Studio welcomes students of all ages and skills to Learn, Create, and Celebrate Art in a personal and welcoming environment.
We offer small group classes, workshops, and private events for children and adults in:
 Academic Drawing
 Painting (various media)
 Stained Glass
 Glass Mosaic
 Clay Art 
 Sewing 
 …and more! 
For established artists and hobbyists, we also offer Studio Time. Please contact us at art@monroestreetstudio.com for rates and available time.
Monroe Street Studio is located in Herndon, VA's historic downtown district. Convenient parking is available in the Monroe Professional Center lot.
We are approximately 1 mile from the town center of Reston, Virginia, and easily accessible from Washington DC via Route 66 toward Dulles Airport to Route 267 (toll road) exiting on the Fairfax County Parkway.

The original building on the Monroe Street site in Herndon was constructed in 1900.  After undergoing many changes and enhancements over the last 100+ years, the building was purchased in 2014 with the vision for it to become the home of a new center for an art school, gallery space, and event venue for children and adults.  In preparation for these roles, the aging building has undergone extensive refurbishment.  The transformation was designed to preserve the site's historical roots while outfitting it as a creative Arts & Fine Craft center for Northern Virginia.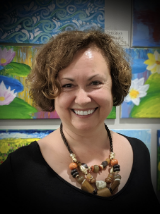 Founder, Director, and Art Teacher
Yana Farmer founded Monroe Street Studio based on a vision that developed over many years as a professional artist and trained art teacher.  She earned her degree at the Vitebsk Arts College, originally founded in 1905 by noted artist Marc Chagall who was a distinguished European modernist and member of the modernist avant-garde community in France and Russia. Chagall was associated with several major artistic styles and created works in virtually every artistic medium, including painting, book illustrations, stained glass, stage sets, ceramic, tapestries and fine art prints.
Yana's broad interests across artistic mediums were first developed under the enduring influence of Chagall's artistic approach. Yana began her career teaching art to students of all ages in Vilnius, the capital of Lithuania. She came to America in 2004 and for several years taught art while developing her own vision for combining the remarkable freedom and flexibility she found in America with her traditional European educational style. Her professional vision is to help children and adults of all ages achieve their highest potential through the appreciation of art. Monroe Street Studio represents the realization of that vision.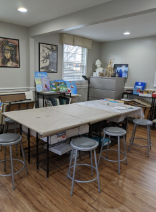 Where creative expression, fun gatherings, and art happens
Monroe Street Studio is home to creative spaces designed to support high quality programs in Art & Fine Craft. The facility is fully equipped for classes, workshops, and special events in Drawing, Painting, Clay, Mosaic, Printmaking, Sewing, Fiber Arts, and more.
Our exclusive Glass space is available for cutting, crushing, grinding, and soldering Stained Glass creations. Use of our in-house kiln is by special arrangement.
Our multipurpose spaces can be rented by artists and craftspeople for short- or long-term use. Organizations and individuals are welcome to rent spaces for public and private events such as parties, celebrations, and other gatherings.