Young Artist Entrepreneurs Club (YAEC)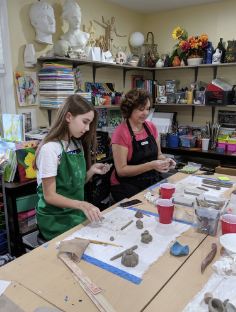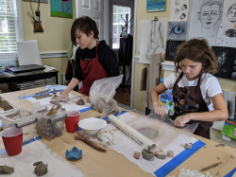 Young Artist Entrepreneurs Club (YAEC)
Calling all young Monroe Street Studio Art Students! Would you like to market and sell art pieces through the Studio and at events? We can show you how!
Join us on select Saturdays every month to create pieces to be sold at the Studio's incoming Art Shop or during local events. Work side-by-side with artists as they create their own art. Discuss with mentors about packaging, pricing, displaying, and advertising your art works.
There is no tuition cost for YAEC members, just materials costs & equipment fees which will vary from month to month depending on the project focus.
Please note that this is not a Class or Workshop – this is a Club Meeting where everyone is producing similar, predetermined pieces while adding their own personal, creative twist with minimal instruction. Young Artist Entrepreneurs are expected to have the skill level, knowledge, focus, desire, and maturity to work independently while cooperatively sharing the same work space as others.
Space is limited to six students ages eight and older.
YAEC February 2020
Saturday, February 15th
2-3:30 pm
Our focus will be on glazing Clay Art Plant Pockets. Formed, fired, glazed, and fired again, these decorative and functional wall-mounted holders will be ready to bring Spring inside with the addition of an Air Plant.  Students MUST have participated in the January Club Meeting to attend this February Meeting.
Did you miss the beginning of the session but still want to enroll? Want to do a trial class to see if it is a good fit for your student?  Opportunities are available – please contact art@monroestreetstudio.com for details.
Attendance policy: Due to the nature and continuous presentation and refinement of new skills and techniques covered in this program, we ask that students do their very best to attend all classes within a session. At the end of the session, there will be a makeup opportunity for anyone who has missed a class for whatever reason within that session. We will no longer be issuing credits or refunds when two or more classes are missed due to student schedule conflicts or illness. Students who are aware that they might miss two or more classes should discuss the situation with the Studio prior to registering for the class.